The mark of any good business is great branding. When it comes to branding your paper products and communication materials, Impress Printing will make sure your company is well-represented. We offer graphic design and print services for a complete range of paper products—everything from business cards to letterheads in San Bernardino, Rialto, Colton, and San Bernardino County, CA:
Business cards:
There's no substitute for great business cards—not even in today's digital world. We print high-quality business cards in San Bernardino, CA to your specifications, on a variety of paper stock with numerous finishes available.
Business forms:
Bring us your ideas for carbonless forms and other daily business forms and we'll turn them into beautifully printed, perfectly branded products. Our attention to detail ensures your forms are professional, whether for internal or external use.
Envelopes:
When you send mail, make sure the recipient knows exactly where it's coming from. Whether it's marketing collateral or official company post, our envelopes will distinguish your business from everything else in the mailbox.
Invoices:
Professional-looking invoices are essential for any company doing business with vendors, partners, contractors or customers. We'll design invoices you'll be proud to issue and make sure you always have enough on-hand to do business daily.
Letterheads:
From internal memos to thank-you letters and more, we print letterheads that you'll be proud to sign your name to and send out. We can even help you design multiple variations, for different types of communication. Just insert into your printer for instant branding for any document!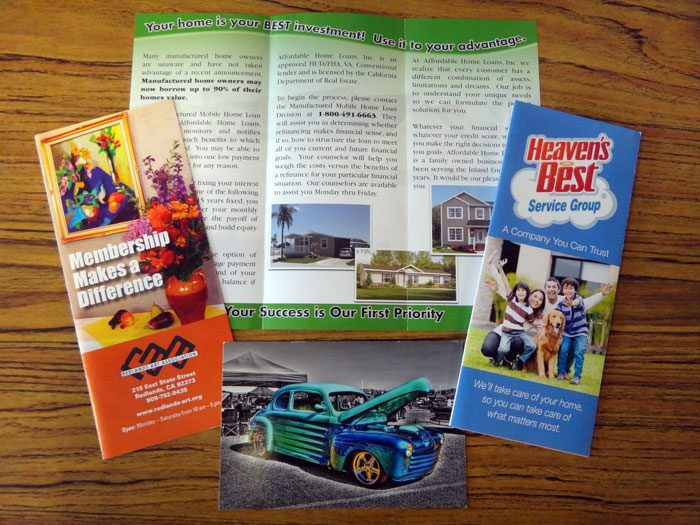 With both digital and offset printing capabilities, we're equipped to produce any paper product, in any capacity, regardless of run size or variable data. Let us help your business unlock the power of professional-grade branded paper products.
Professionally-Printed Products
We're your one-stop-shop for professionally-printed paper products, including letterhead, envelopes, invoices, business cards and anything else you need to run your business. Impress Printing promises high-quality products, delivered to you in a timely manner. Whether you're ordering for the first time or restocking your office, we're ready to help. Contact us today at 909-884-1121 for a free estimate on business cards, letterheads, copy services, banners, and more.